Shopping for waterfront properties? Make sure you consider these key points.
When it comes to purchasing waterfront property, it's tempting to jump right in. It's not hard to see why, as the idea of living on the water sounds like paradise. However, there are some important considerations you need to make before sealing the deal.
If you're thinking about purchasing one of the houses for sale in Royal Palm Yacht & Country Club's community, take some time to consider these five important points.
Maintenance
When it comes to waterfront properties, it's important to be aware of the ins and outs of maintenance. When considering a potential home, ask your agent about what needs to be done in order to keep the property up and running. What tasks are required? This can vary in each and every home, so look into the specifics for that property.
Insurance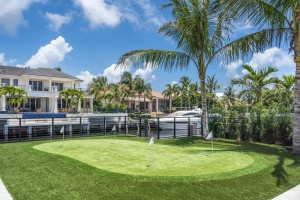 Coverage for waterfront properties can be expensive and intricate, so we recommend looking into this. Interested buyers should be familiar with the complete scope of the house and all that it entails.
Consider cost, and look into the area's local laws and requirements for insuring waterfront properties. Due to the weather and environmental conditions in Florida, homeowners need to have a wind policy, flood policy, and general hazard policy. All these help to keep you and your property secure, covered and protected.
Boat Access and Storage
Many people choose a waterfront property in order to live a boat-centric lifestyle. Potential buyers should inquire about the available boat storage and access. Is it directly attached to your home, or is it in a community common area? Depending on your personal preferences, you might favor one option over the other.
Homeowners Association
It's common for waterfront properties to be part of a homeowners association. There are a wide array of benefits that come along with being part of an HOA, but they also bring about many different responsibilities.
Inquire about the different upkeep and maintenance requirements as well as the costs and fees. It's a good idea to review the HOA conditions, rules, and restrictions. To find out more about your new association, talk to the HOA management and ask any other questions you may have. When it comes to joining a new homeowners association, clarity is key.
Work With an Experienced Agent
Choosing an experienced agent is imperative in purchasing a waterfront property. You need to make sure you're dealing with someone who is an expert in the local waterfront property industry, especially in a hot market like Boca Raton real estate.
Aside from knowledge and experience, you'll want to find an agent that you trust and with whom you easily get along. Your agent will be your most important asset during the entire home buying process, acting as your guide to navigating the local market.
If you're interested in living near the waterfront and purchasing one of the Royal Palm properties in Boca Raton, don't hesitate to contact us today! It would be our pleasure to help you with your home buying journey.
Pictured 261 Alexander Palm Road
Waterfront estate listed for sale by Royal Palm Properties for $12,250,000.