Upgrade your kitchen with these luxury trends dominating 2019 …
Popular kitchen design is constantly evolving, meaning what was trending yesterday isn't necessarily still in style today. Moving into spring, there's no better time to give your kitchen some much needed TLC.
We've put together a list of the five hottest kitchen trends right now that will enhance your home's luxury vibe. These are the most desired kitchen details on the market, and they are sure to create a truly swoon-worthy space.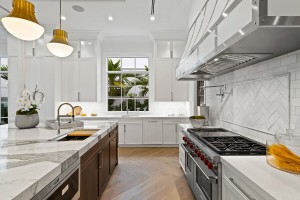 Dazzling Quartz Countertops
Move over, granite–your days as the "it" material are over. This year, countertops are taking on a completely new look. Although there is an abundance of creative countertop materials hitting the market, nothing compares to the popularity and esteem of a brilliant quartz finish.
Due to its immense strength and durability coupled with its chic look, quartz countertops are a fabulous way to make a statement in the kitchen.
Towering Refrigerators
Even though it's an often ignored aspect of kitchen renovations, the fridge plays a pinnacle role in establishing the room's mood. You'd be surprised at much of a difference a new refrigerator makes in a kitchen, and we're seeing a huge push towards columnal fridges this year.
These towering vertical appliances are dramatic in style and incredibly useful. Their sleek design makes an impressionable statement and imparts the essence of luxury more than traditional models ever could.
Dark Colors Everywhere
Darker color schemes are beginning to dominate kitchen design, as deep, rich tones can set a moody and mysterious vibe while still creating a clean-cut atmosphere.
Some examples of hot color schemes are the classic black and gold, vibrant emerald and brass, or earthy terracotta and clay-like hues. The goal is to create a palate that is both uplifting and sensual.
Choose Matte Surfaces
In today's kitchen scheme, matte is really providing the "wow" factor, that thanks to its innate utility and super sleek attraction, there's a good chance we'll see it sticking around for a while. The soft texture of a matte finish is far easier to keep clean than shiny surfaces, making for simpler upkeep.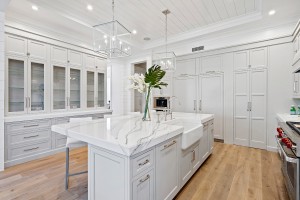 Sophisticated Glass Shelves
Luxury buyers are captivated by this stylish kitchen detail. Glass shelves are on the top of nearly everyone's request list due to their timeless essence. Their delicacy creates an almost weightless illusion of the objects stored there–as if they're floating in midair. Heavy fixtures provide a nice dichotomy of style, so consider using dark, heavy bases.
These easy-to-implement style tips will make you fall in love with your kitchen all over again. Royal Palm Properties in Boca Raton, represents some of the trendiest kitchens on the market. If you're interested in exploring homes in the Royal Palm Yacht & Country Club community, contact us today.