Here's a vital piece of information all golf course-living enthusiasts need to know—not all courses are the same. And variations can mean major differences between experiences since all golf courses have their own individual rules, regulations, and amenities.
The Royal Palm Yacht & Country Club is home to some of the most desired golf course realty in the country, so the options are nearly endless. Buying a property is no small task, so home buyers looking to invest in golf course real estate need to know exactly what kind of deal they're entering into.
In order to learn all there is to know about the situation beforehand, we've compiled a list of the three major questions to ask yourself when you're planning to purchase a golf course property.
What Are the Membership Details?
Just because you own a home on a golf course doesn't necessarily mean you're automatically a member. Without working with an experienced agent, too many home buyers learn this the hard way. When buyers fail to perform due diligence, there can be a lot of very painful points that get overlooked—including your ability to play.
Although it may seem like a given that living on a course means you're a member, this isn't always the case. One of the main reasons for avid golfers to purchase a home on a course is to make their passion part of their everyday life. However, to spend long hours out on the green, you need to be a member.
First things first: inquire about the membership fee. Whether it's included in the property expenses or comes at an additional charge, you end up paying for it somewhere. If it's included in the home's cost, consider if it's a fair price. If you need to purchase the membership separately, look into your budget and see if it's a sustainable and comfortable amount.
How Often Will I Use It?
Once you've uncovered all the factors concerning the membership, it comes time to get honest with yourself. In order to ascertain if the value is fair, you need to seriously consider how often you'll be using it. How often will you get to play? Will you take advantage of the whole package?
If your current schedule makes it so you are unable to factor in much golf time, is it really worth it? Will you stop playing as often down the line? Would you prefer a waterfront property that allows for more convenience when it comes to boating activities? Everybody is different, and only you can decide if living on a golf course fits into your lifestyle as a solid investment.
What Other Perks Are Included?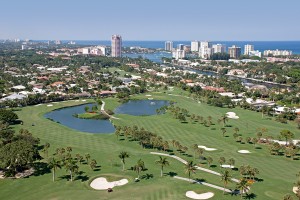 Finally, investigate the amenities offered at the golf course. Many courses–like the one at Royal Palm Yacht & Country Club–have pools, recreation centers, cafes, tennis courts, and more. Look into what other perks you'll have access to as a resident and member.
For more information about golf course living, check out our blog. If you're interested in buying a golf course property in Royal Palm Yacht & Country Club, the premier homes for sale in Boca Raton, contact us today. It would be our pleasure to help you search the Royal Palm properties available and find the perfect fit for you.