Make your foyer chic and welcoming with these five tips.
When you visit a home, the very first thing you see as soon as you walk through the front door is the entryway. A person's entryway and how they choose to decorate it offers the first glimpse into their personality and style. There are many different aesthetics and ambiances from which to choose. Here are a few ways to turn your regular entryway into a stunning and luxurious beach house heaven.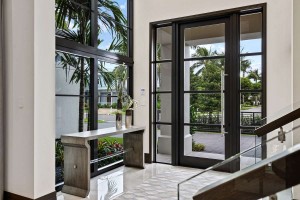 Entryway Consoles/Table
Your entryway table can make or break your house's aura. A beautiful wooden console or foyer table can make a great addition to a spacious entryway. To spruce it up even more, add some subtle coastal decor to give it the atmosphere of a luxurious beach home. A minimalist vase or sculpture can also instill an air of luxury while still showcasing your taste.
Artwork
Art is the easiest way to give a home character—even in the entryway. If you want to cultivate a classic, beachy atmosphere, hang some watercolor paintings of the ocean. For a more modern or contemporary ambiance, eye-catching abstract art can act as a trendy centerpiece. Art is subjective and unique to you, making it a great way to add your own personality and flair to your house from the get-go. Finding multiple pieces that thematically tie together and accent your other decor can create a stunning collage that greets guests as they walk through the door.
Pop of Color
A pop of color is a great way to add some charm to your home. Cool colors like light blues and greens tend to be particularly popular with waterfront homes. Painting accent walls or even branching out and choosing a bolder wallpaper can make your entryway visually interesting. Rugs and runners are another way to tie in some color and add a splash of personality.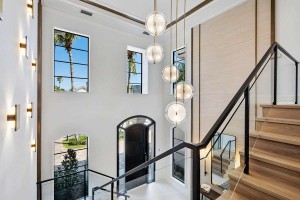 Statement Lighting
Lighting is an often-overlooked element that can make a big impact on your entryway. The options for lighting fixtures are truly limitless, and finding the perfect one ties the whole space together. From more traditional chandeliers to more sleek, angular fixtures, no matter what look you're striving for, the perfect lighting is sure to set the tone.
Seating
Adding some seating to your entryway is an excellent way to make the space feel cozy and welcoming. Whether you integrate a small chair or a longer bench dotted with some pillows and throws, adding some seating to your entryway is convenient and inviting.
Want More?
Interested in looking for real estate in Royal Palm Yacht & Country Club, Boca Raton's premier waterfront and golf community? Contact Royal Palm Properties today! Showcase of interior design by P&H Interiors.